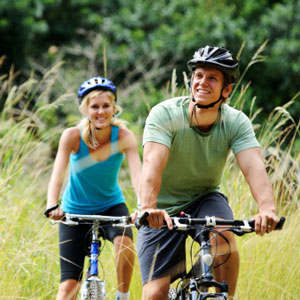 Sports Chiropractic at
Cahill Back & Neck Care Center
Dr. Stinson grew up playing sports, and even played for the St. Paul rugby club when he was in college to become a chiropractor.
Dr. Stinson learned firsthand how focused chiropractic care was able to help him recover quicker from injury. From that point on, he was set on learning more about how he could use chiropractic care to help athletes get back to doing what they love quickly, safely and effectively. This led him to complete a sports specialty chiropractic course after receiving his Doctorate of Chiropractic.
For more than 30 years, he's welcomed athletes of all skill levels into the practice-from school aged children just starting to hone their craft, to professional and Olympic athletes that need to operate at their best.
Over the course of his career, Dr. Stinson has seen a variety of injuries in patients young and old, however they usually have one thing in common-typically, in athletes, we find an underlying mechanical issue that's the root cause of the tissue breakdown, leading to injury.
Luckily, this mechanical problem can usually be helped with focused, specific chiropractic care.
Care for athletes may include a variety of techniques and other modalities to ensure their body gets exactly what it needs for a speedy recovery, including but not limited to:

Chiropractic care
Nutritional support
Electrical Stimulation
Exercise and stretch recommendations
What types of injuries can chiropractic help for athletes?

Chiropractic care can benefit athletes who are experiencing injuries including but not limited to: tennis and golfer's elbow, rotator cuff injuries, runner's knee, extremities, feet and ankle problems, plantar fasciitis, tendonitis, back and neck pain, shoulder problems, wrist issues including carpal tunnel syndrome and more. These types of sports injuries may come on quickly or developed years ago and are just now expressing symptoms. Our team will help identify what's causing them and work with you to reduce pain while improving function.
How soon should I visit you after an injury?

If you've been injured in your sport, we recommend visiting us as quickly as possible. We reserve appointment times each day for both new patients and those that need to see us in a pinch, so we'll do our best to get you in ASAP. It's best to see us quickly as we can work to improve function in the problem area before it stays misaligned for too long, which can cause even more problems or pain.
How long will I need to see you before I feel better?

Because each patient's problems are unique, it's difficult to say how long you'll need to see us before you feel better. We'll let you know what our estimated time-frame is for your care when you visit us and after we've taken x-rays and made our recommendations. Please know that we'll never force care on you-in fact, we want to make you an active partner in your care so that you understand exactly what's going on in your body. After you're feeling better, it's up to you whether you'd like to continue to see us for maintenance visits or simply return if the injury flares up in the future.
Can you work alongside my medical doctors?

Absolutely. If you'd like to make us a part of your whole-health care plan, we're happy to share our x-rays, findings, and the therapy we're providing you to your wider medical team. If you're seeking care with us for an underlying issue that you're also seeing MD's for, feel free to have them send over any scans, treatments, or health history information that may help us in your care as well.
Will my care be painful?

Absolutely not. In fact, most athletes who visit us look forward to it and leave feeling a little better than they did when they arrived. Our patients find care relaxing and comfortable-we know you will, too.
Can chiropractic help me recover faster?

It's possible that your adjustments and therapy with us may help you get back into your sport, faster. This is because chiropractic care is designed to restore proper movement and function to your body and spine. Chiropractic care may also reduce inflammation in your body, which can lead to less pain and increased range of motion.
Learn More Today
Ready to find out how focused chiropractic care can help you get back in the game, quicker? We'd love to meet you and learn more about your goals. Our practice is proud to accept a variety of insurances and offer in-house payment plans for your convenience.
Get your health back today-contact us for a visit.
CONTACT US »

Sports Chiropractor Inver Grove Heights, South St Paul, West St Paul MN |
(651) 451-7222