Kinesio Taping at Cahill Back & Neck Care Center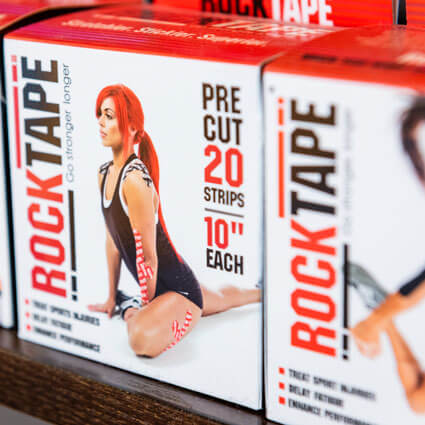 Kinesio taping has become one of the most recognized and widely used types of rehabilitation techniques. It is devised to ease acute or chronic pain while maximizing the healing process. It also provides additional support and stability to muscles and joints that are weak.
At Cahill Back & Neck Care Center, we have a chiropractic support team that is experienced with this innovative and effective tool.
What Kinesio Taping?
A kinesio tape is a very stretchy tape that imitates the elasticity of a skin for the purpose to expand a person's range of motion. The tape is made of cotton and nylon and is quite durable and water-resistant.
It remains one of the most widely used therapeutic modalities in the rehabilitation field. You probably have seen this type of tape on the arms and legs of wrestlers, football players, gymnasts, and track and field athletes as well as on the bodies of those recovering from surgery.
Benefits of Kinesio Taping
The following are just a few of the many features that makes kinesio taping treatment unique:
It has a powerful impact on its own, or it can be utilized with other treatments like massage, spinal manipulations, adjustments, and so forth
The tape can be worn around the clock and can remain in place for several days, providing therapeutic benefits the entire time without daily visits to therapists
It is one of the least expensive but most effective therapeutic modalities available
The kinesio tape has no known side effects, is hypoallergenic, and is a safe and non-invasive treatment option
Most people can be taught how to apply it themselves for short-term support and pain relief when they still have a few days until they can be seen by their chiropractor or therapist
Other benefits from this one of a kind tape include:
Creates space in the joints so that irritation in those areas can be reduced
Relieves pain
Improves blood circulation
Enhances endurance and range of motion
Supports weak muscles and joints
Improves function in the muscles
Increases performance
Reduces swelling and inflammation
Accelerates recovery time
Contact Us Today
Here at Cahill Back & Neck Care Center in Inver Grove Heights, we offer a range of chiropractic treatments like kinesio tapping to help you improve your overall health and well-being.
Get in touch with our chiropractor today by booking a visit to learn more about how we can help you!
CONTACT US »

Kinesio Taping Inver Grove Heights, South St Paul, West St Paul MN |
(651) 451-7222