Accident Care at Cahill Back & Neck Care Center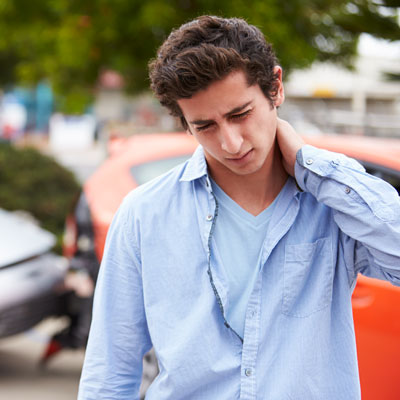 Dr. Stinson loves helping patients recover from accidents-whether it's something that happened on the job, or an auto accident. For every patient, he'll take a unique approach to learn about your specific needs, injury and goals.
Learn more about the different types of accidents we can assist with below.
Auto Accident Help
Did you know? Studies indicate that even a rear-end car crash at just 5-7 miles per hour can produce 5-7 G's on your neck in a quarter of a second-that's up to 7 times the force of gravity pulling at your neck in a fraction of a second.
As you might imagine, that's not good for your spine or nervous system.
While we agree that it's important to visit an urgent care center or even emergency room to get checked after an auto accident, you should also schedule a visit with our practice-that's because urgent care centers don't always check for the underlying structural damage caused by a car accident, but we do.
In fact, Dr. Stinson regularly sees patients who come into the practice complaining of neck and back pain. X-rays will reveal an arthritic neck, and he'll ask, "So, when was your car accident?" Sometimes, the patients reply that it was more than 20 years ago! If only they'd found chiropractic sooner, care may have helped them develop healthy scar tissue instead of a chronic issue.
How Care Helps
Chiropractic care for auto accident victims is meant to identify structural problems that may have occurred in your body as a result of the accident. The sooner we're able to locate the problems, we can focus on restoring function and getting you back to feeling your best. Ultimately, the quicker we can evaluate you, the better chance you'll have at making a quick, full recovery.
Even if you aren't in pain (yet), we recommend visiting us for an appointment. That's because it can take days, weeks or even months for your body to experience pain as ligaments and bones settle into their new improper position. The longer you stay misaligned, the longer it generally takes to restore proper function.
Working With Lawyers and Insurance Companies
Dr. Stinson is happy to refer patients to top attorneys in the area if they come to us without one and need help with their case. We can also provide records of your care to insurance companies or attorneys on your behalf.
Schedule Your Appointment
Dr. Stinson would love to welcome you into the practice and help you get back to living the life you love, naturally. If you'd like to learn more about how we can help you recover from your auto accident injury, please contact us today to book your appointment-we can't wait to meet you and help you achieve your goals in health.
Get started today!
CONTACT US »

Accident Care Inver Grove Heights, South St Paul, West St Paul MN |
(651) 451-7222