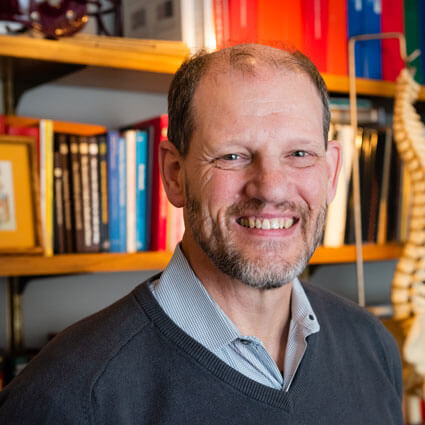 Meet Dr. Scott Stinson
His Path to Chiropractic Care
Dr. Stinson originally thought he'd make a great veterinarian—though he ultimately learned he didn't have the correct pre-requisites to continue in the field. Knowing he had great hands, he entertained the idea of becoming a chiropractor—and after learning more about the natural power of chiropractic, the rest, as they say, is history.
Dr. Stinson graduated from the renowned Northwestern College of Chiropractic in 1982, and opened his first practice just a few short months later.
The Beginning of Cahill Back & Neck Care Center
Dr. Stinson had grown up spending time in the Inver Grove Heights area—in fact, his grandfather owned a local jewelry store nearby. He knew this was the perfect place to open his practice, and when the time came shortly after graduating from chiropractic college, his Grandmother helped him get the practice up and running. He couldn't have been more thankful at the time, and today, after decades in business, he recognizes it as one of the best decisions he's ever made.
Dr. Stinson is proud to welcome patients of all walks of life into his care, from families to seniors and everyone in between. Dr. Stinson has a passion for working with athletes, as he was an avid rugby player in college and credits chiropractic to helping him stay healthy and play to his potential.
EXPLORE CHIROPRACTIC »
Outside of the Practice
When he isn't changing lives in the practice, Dr. Stinson enjoys spending time with his wife, a third-grade teacher, and two daughters who are both Physician's Assistants. He also has one grandson.
Dr. Stinson loves to ride bikes and soak in boat rides at the family's cabin up north. He and his wife also like to grill—sometimes a more 'unusual menu' like pizzas, hams and salmon.
Ready to learn more about Dr. Stinson and how he can help you achieve your goals in health? He can't wait to meet you and welcome you to the practice. Get started today by booking your appointment with us.

Dr. Scott Stinson | (651) 451-7222